March 4th, 2012
Microsoft 365 has a bunch of additional features not found on their OWA (Outlook web application) which you can access via Powershell, however you will need at least a Computer Science degree to use MS' Powershell.
If you like reading and would like to find out more about Powershell from MS, check out
http://onlinehelp.microsoft.com/office365-enterprises/hh124998.aspx
Fortunately, Ross provided me a couple of commands to log into 365's powershell easily.
December 4th, 2011
Office 365 is Microsoft's answer to Google Apps for business which essential is a Gmail/GDocs/GCal suite. Although MS made setting up on MS Outlook very easy, not much information was available for non MS products which is a pain.
Anyway, heres how you setup Office 365 on Android so that your calendar and emails all sync up,
September 16th, 2011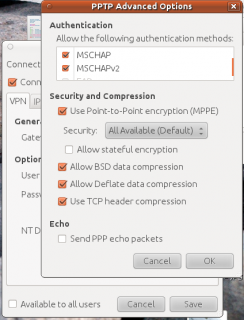 Just tried and found that Ubuntu Linux Natty 11.04 now works really well with Microsoft VPN via Network Manager. I reminisce the old days of config files and console commands just to get the pptp client to connect, now it can all be done in the network manager GUI. Its not perfect as it has a couple of quirks.