July 26th, 2011

Sometime back, I wrote a useful little PHP script that provides RSS feeds that use 3FL mirrored content for Tekzilla and Diggnation so that people in Western Australia using certain ISPs can download those content via their unmetered or WAIX quota.
Initially I was simply retrieving the original RSS feeds and updating the URLs in the original feeds to the 3FL ones, unfortunately 3FL takes quite a while to actually download the podcasts which meant often the latest podcast appears in the feed but the download link was broken.
I have since updated the scripts to only returns feed items that 3FL are already mirrored by checking if its already available on 3FL before returning the item in the xml feed.
July 24th, 2011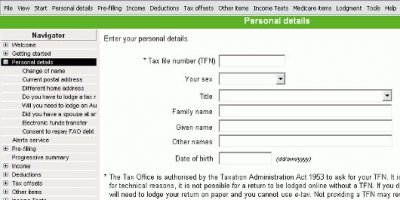 Another financial year has ended in Australia, and its time do submit our tax returns again. However, it seems that ATO's (Australia Tax Office) latest software, e-tax 2011, is unable to let me view last year's Tax submission unless you still have the e-tax 2010 software from last year still installed.
If you have changed your computer or un-installed e-tax 2010, you will need to install e-tax 2010 in order to load the tax report from that year. Note, you will not be able to submit amendments, just be able to view what you submitted.
Problem is, ATO's website no longer hosts the older versions while the latest version of etax is unable to load it. After much trolling through the web unsuccessfully, I finally found the 2010 installer from my backups.
July 23rd, 2011

Today, I encountered an unusual issue with printing a web page in IE8 (Internet Explorer 8) whereby the page prints correctly however it is followed by over 200 blank pages. This issue does not affect any versions of Firefox nor even IE6 (Internet Explorer 6) and IE7 (Internet Explorer 7).
So I set about investigating the issue, and sure enough found that the cause was CSS related.

NOTE: this article is not meant for end users but rather for web developers. So if you are having this issue printing a web page and do not have access to edit that page, I'd suggest you email the website's administrators and send them this page instead.