October 6th, 2010

I setup up a couple of customized RSS feeds for Diggnation and Tekzilla that replaced the revision3 URL with 3fl.net.au's URL for the video download source URLs. 3FL is on WAIX so Western Australians connecting via ISPs with WAIX quota will be able to enjoy Veronica Belmont and Diggnation in free traffic.
The 3FL feed URLs are as follows
If you find that the files are not available via the feed, its because 3FL has yet to mirror the file and there's nothing much I can do until they download the file.
Essentially, they are the same HD versions you find on 3FL's download page.
Hope someone else finds this just as useful and many thanks to 3FL for mirroring the files and saving me lots of download quota!
September 17th, 2010
Just got my HTC Desire for a couple of weeks and boy am I loving it, Android has truly become a geeks dream come true. And there are plenty of reasons why its an iPhone/Crackberry killer and Windows 7 doesn't stand a chance, but here's my top 8 reasons why,
August 18th, 2010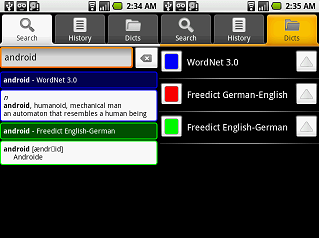 ColorDict is a great free dictionary app on the Android Marketplace which I stumbled across by accident. You can get it on the marketplace via this link or search for colordict.
While it has a couple of dictionaries available separately via the marketplace, the cool thing about this app is that it supports any dictionaries in the open source StarDict format which means you can install any of the dictionaries in this list.
The problem is the installation of the custom dictionaries isn't very clear so heres how I did it.